We aim at providing consumers with a rich and LOHAS life space through the eco-friendly deodorizer Bio-NX. We are looking for the cooporate company and businesses which consents to our idea.

COTO COCUE is commercializing as an image of Kyoto, and it is easy to enjoy the power of an aroma that plant usually have for themselves. We would like to exhibit at a front of the shop so the exhibition stand is prepared.
We will have more lineup of goods in stock from now on.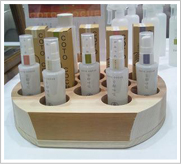 The deodorizer of the natural blessing as it is which extracted without using the organic solvent, and eliminated the toxic substance. You can sell in comfort.
①18L in can Kibune Benkei

The undiluted solution of Bio-NX made into pack stuffing of 18L.Please use the KIbune 4 times by dilution of until according to the grade of a bad smell with transparent liquid. Benkei,blackish brown liquid,needs to use it by dilution up to 8 times according to a bad smell.

②10L in can Soukai (phytoncide Bio-NX)

The power phytoncide of a plant with the effect different from an invigorating aroma is blended. It is effective if you use it for the underwear and the bedding or at home care, which body odor tends to attach,it will change to the natural smell of a faint prairie.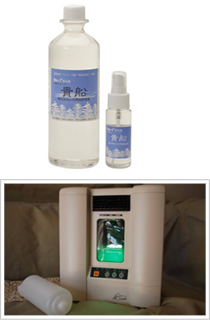 Changing the extraction method of Bio-NX and the commercialization which strengthened the deodorization power of the ammonia odor or acetic acid smell can be performed. The deodorizer can be made from the deodorization substance corresponding to each one needed. If the bark of Karamatsu is mixed with the bark of the Kitayama cedar, the odor eliminating the formaldehyde can be increased.